WHERE? Avebury stands on the Marlborough Downs 24 miles north of Stonehenge, 6 miles west of Marlborough, 12 miles south of Swindon, 8 miles north-east of Devizes, and 7 miles east of Calne.
The main-line railway station at Swindon connects London (Paddington) to its east with Chippenham, Bath, Bristol and Cardiff to its west.
By motorway leave the M4 at the Swindon junction 15 if coming from the east and follow signs to Marlborough. Alternatively, follow the A4361 south from Swindon through Wroughton village to Avebury.
By bus: Transwilts Express 49, from Swindon (near railway station) or from Trowbridge via Devizes; Wilts & Dorset 5,6, Salisbury-Amesbury-Avebury-Swindon (tel 01345.090899); also buses from Calne and Marlborough.
OPEN. Free access at all hours. Wheelchair access to museum and parts of the Stone Circles. WCs at Great Barn and off the High Street. Dogs on leads when in the Stone Circles and along the Avenue (sheep grazing).
MUSEUMS. (1) The Keiller Museum, founded 1930, is devoted solely to exhibits and materials found at Avebury and closely neighbouring sites. Its hours: 1 April to 31 October 10 to 1800 daily. 1 November to 31 March, 10-1600 daily, but closed 24 to 26 December and 1 January (off the High Street, near the Great Barn which will house a major extension to the museum by 2001). Adults £1.50; children 80p. English Heritage and National Trust members free.
(2) Devizes Museum in Long Street has splendid exhibitions of Stonehenge and Avebury (tel: 01380.727369).

TOURIST INFORMATION (hotels, lodgings, etc): Avebury 01672.539425

For personal private tours with expert guides: Telephone 01225.862482. Or E-Mail us in advance of your visit.
Charges depend on numbers, time taken, and the variety of sites at and near Avebury visited.
Slide shows of unvisited sites to finish the tour (or in bad weather).
Limited Child-Care available.
WHEREABOUTS OF THE PRINCIPAL NEARBY SITES
West Kennet Long Barrow. 1.5 miles south of Avebury, always open, no admission charge, a well-restored showpiece megalithic tomb-womb. Contains a splendidly-carved human head and a carved sheep's head 5500-5600 years old.
SU 104 678. For further information CLICK HERE
The Sanctuary. A monument 1.5 miles or 2.5 km south-east of Avebury and linked to Avebury by the 1.5 mile-long Kennet Stone Avenue. This series of timber-post circles and stone circles (destroyed about 1725 ) terminated this Avenue. The postholes and stone holes are now indicated by concrete markers. Always open, no charge.
Silbury Hill. The world's biggest artificial prehistoric hill, under a mile south of Avebury.
For further information CLICK HERE.
Windmill Hill. The type-site for Early Neolithic interrupted-ditch enclosures. NE of Avebury. Always open, no charge.
Swallowhead Spring, south, by Silbury, is one of the principal sources of the River Kennet and continues to attract attention as an ancient sacred spring.
Before departure, read about the megaliths of Avebury, the Kennet Avenue and West Kennet Long Barrow in the most comprehensive guidebook indicated below.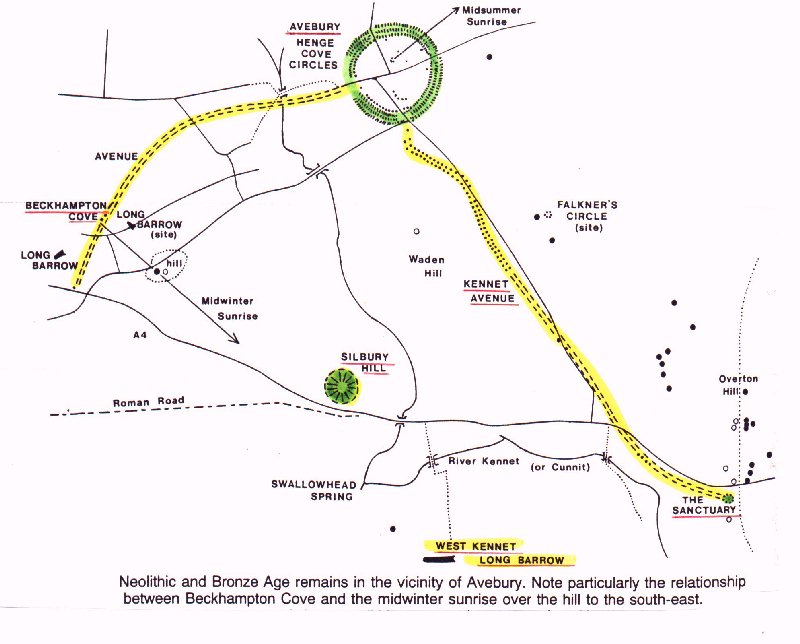 For pictures and information on head and face carvings at Avebury CLICK HERE
For answers to Frequently Asked Questions about the Avebury stones and the building sequence CLICK HERE