Megalithic Meeting of 5 February 2000 at Rollright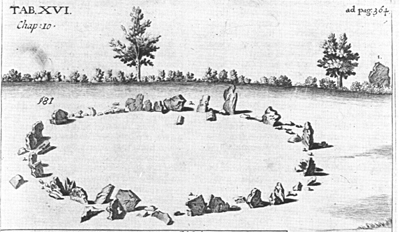 Nearly 30 megalith enthusiasts, including internet chatters and Megalithic Society friends, assembled at the Rollright Stones in Oxfordshire where it borders Warwickshire (SP 296308) at 10.30 for a day's exploration of the local megaliths. We were welcomed by John and Karin Attwood, Sam Fleming and others who have worked and slaved so long and bravely at the King's Men since their sale by Miss Pauline Flick two years ago.
The weather was overcast and there was a sharp cold wind as student Tom Wilson summarised the history of the monument and related the folklore story of how the King and his Men got to be petrified by the local cunning hag. Upon meeting them the witch cried out:
Seven long strides thou shalt take,
And if Long Compton thou can see,
King of England thou shalt be.
While the knights whispered in a group and the other men stood in a circle, the king advanced six paces with no problem, but before he could finish his seventh pace a mound rose up before him and blocked the view to Long Compton. Triumphant, the witch said:
As Long Compton thou canst not see,
King of England thou shalt not be,
Rise up stick, and stand still stone,
For King of England thou shalt be none.
Thou and thy men hoar stones shall be,
And I myself an elder tree.
The interpretation of the story in terms of psychology, matriarchal-patriarchal opposition and shamanistic practice was fairly impressive.
Some 77 stones stand today and George Lambrick's limited excavation in the 1980s intimated that when the ring was completed 4000 years ago the stones may have been nearly all touching. On the other hand we know from antiquarian accounts and sketches that in the mid-19th century fewer stones than now were standing because there were more fallen and broken pieces. In the illustration above, taken from Dr Plot's Natural History of Oxfordshire (1677), the King Stone is visible at the right on the other side of the hedge.
The ring of stones is an almost true circle, one of the truest known. Its diameter averages 32 metres or 105 feet. At the south-south-east is an entrance which as viewed from the centre opens to almost 150 degrees east of north which is not any possible solar or lunar rising.
The tallest stone, two metres high, is numbered Stone 3 on archaeological reports (see for example G. Lambrick, 1988). No markings had ever been known for any stone until two summers ago when a Yorkshire visitor spotted three incised lines on the inner side of this megalith. Subsequent inspection by experts confirms this. Some people have called it a shield which, if correct, may imply a date for the carving not older than several hundred years, but several of us independently thought the proposal questionable. Instead, it could be better described as an inverted isosceles triangle of Tantric type because two of the three sides are definitely straight lines while the third is equivocal only because of a less definite section in its middle of its length.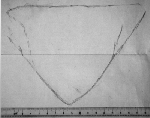 Among the several people who preferred triangle symbolism, Jude Stammers remarked how apposite it was to have a traditional female sign incised as a counterpoint to the masculinity of the tallest megalith at the site. It is to be noted that the stone stands almost opposite to the entrance stones at the other side of the circle. Isosceles triangles play a fundamental role in the religion of the Hindus of India, and are fairly commonplace as upward triangular stones at many ancient sites in Britain.
Next, Paul Devereux gave a short talk on aspects of his Dragon Project conducted in the 1970s and early 1980s at the Rollright Stones. He also clearly stated his understanding of what he means by ley lines, because he now firmly believes that the ley lines plucked from maps and the concept of 'ley energies' exist only in the mind of the speculator.
After this, we crossed the road into Warwickshire to admire the King Stone and the splendid distant views to the north. Terence Meaden took the opportunity of saying that H. C. Brentnall, writing in Wiltshire Archaeological Magazine in 1946, said that the people of South Warwickshire call the oolitic Rollright Stones sarsens although they are so different from the natural sarsens known for the Wiltshire Marlborough Downs and Stonehenge. Country people in Wiltshire called them sassens or sazzens before visiting scholars 'modernised' the name and altered its spelling to sarsen.
*
Below is a photograph of part of the day's excursion group. Included are Chris Tweed (centre left at back, with red hat), and then going to the right, Andy Burnham (with video camera), Dave Staveley, Jeremy Harte, Richard Pederick, Jude Stammers, Diane Krishnan, Gerald Ponting and Pete Glastonbury.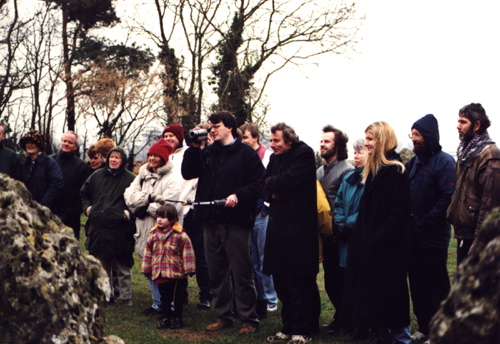 The megalithic site, the Whispering Knights ---- all that remains of an Early Neolithic portal dolmen ---- although not visited on this day, deserves mention (SP 299308). Four megaliths are standing while the capstone lies inclined at an angle. Terence Meaden has reported finding uncertain head features on the major upright stones which under certain light conditions are fairly obvious. Although probably natural in origin, they might have been there since megalithic times and therefore admired by the ancient people, and helped in the creation of the folklore tale about the King and his knights and men.

Rollright Stone Circle. QTVR Panorama.
Click & Drag to move around.
Zoom out = Ctrl
Zoom in = Shift
A good lunch was taken at the garden centre a mile east along the road towards Great Rollright, at which Jude Stammers gave an introduction to ASLaN, the Ancient Sacred Landscape Network, of which she is chairman, and Gerald Ponting summarised his enviable archaeological work of the 1980s on the Island of Harris at Callanish. After this, starting about 2.30 p.m. about 15 of us accompanied Tom Wilson on a useful tour of some of the neighbouring sites.
This began with the diminutive megalith that is the sole survivor of the Goose Stones on Chastleton Common. Close by but not visited are an Iron Age fort (SP 259283) and a much damaged Neolithic chambered barrow with visible megaliths. Next was the village of Churchill.
CHURCHILL
It is uncommon to find so many grand megaliths in the middle of a village, and one wonders how many ancient monuments may have been destroyed in past centuries. One site, though, has been suggested and that is a likely lost stone circle a mile away at Sarsden Grove. It is said that because the cart carrying megaliths broke down upon entering the village, it was decided to leave all the stones at that spot. Over half a dozen megaliths are present there, at least three of them erected.
Forming a simple wall near one of the churchyard gates at Churchill is a row of seven fine megaliths, all standing; and serving as a road-edge are several dozen good megaliths. Everyone admired the modern well in the village centre but only Pete Glastonbury spotted the site of its predecessor on the opposite side of the road. The latter has no running water today but what remains of it is a splendid trilithon arch like a miniature of the Stonehenge ones. Usually at such well sites the principal arch is curved, not flat. A little further on is a megalithic pedestal-centred square-section obelisk raised in honour of the village's most famous native, William Smith (1769-1839), father of British geology.
Lastly, we went to
LYNEHAM LONG BARROW which is half way between Chipping Norton and Burford and almost alongside the A361 (at SP 297211). This much-damaged chambered structure, aligned 020-200, has interesting features. There is a huge standing stone reminiscent of the biggest blocking stone at the West Kennet barrow. Being transverse to the barrow's axis, it could have served as a terminal blocking stone.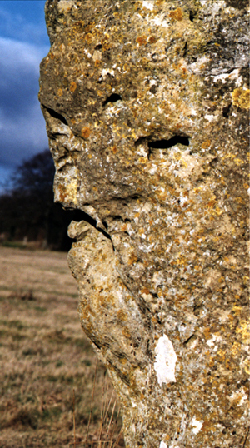 Behind it is a very broad gap created by farmers greedy to increase slightly the area of cultivable land. This dismal event destroyed any north-north-east facing gallery and/or cell that could have been there, but Pete Glastonbury and Terence Meaden suspect that one of the missing stones is identifiable a few metres away in the roadside wall. It is a perfect isosceles triangle, the only stone with a triangular outline that we had seen from among the hundreds inspected that day.
Dr Meaden has identified similar long-barrow triangular megaliths at West Kennet (Wilts), Hetty Pegler's Tump (Glos), Grey Mare (Dorset) and for the wrecked Corscombe barrow (Dorset). It is possible that a Tantric-style megalith was set up at other chambered barrows besides these, and we would appreciate being informed of others by correspondents. After this, the party broke up as the veiled sun was setting, and a number of the group repaired to the Cross Hands near Over Norton for final nourishment.
ADDITIONAL MAJOR MEGALITHIC SITES IN OXFORDSHIRE
HOAR STONE CHAMBERED LONG BARROW, AT ENSTONE
Six megaliths, three standing, remain of the east-facing cell of this ruined Neolithic long barrow. The tallest stone is almost 3 metres high (ca 9 feet) above ground level. Sometimes, depending on lighting conditions, a huge human head can be discerned.
The stones are overshadowed by trees being on the roadside edge of a plantation where the B4022 meets the Enstone to Ditchley road (SP 3778 2372).
THE HAWK STONE
This isolated standing stone, riddled with pits and holes, reaches higher than 2 metres (7 ft) above ground level. It stands in the middle of a field (SP 3492 2354) between Lidstone and Chadlington, about 3 miles by road south-west of the Hoar Stone site.
WAYLAND'S SMITHY
This site in South Oxfordshire (SP 281854), close to Uffington White Hose and Uffington Castle, more properly belongs to the Avebury/Stonehenge traditions of the chalk downs. The Neolithic chambered long barrow that is Wayland's Smithy can be reached by following the Ridgeway for 20 miles north-eastwards from Avebury. The shortest way is by track walking half-a-mile up from the car park which itself is half-a-mile from the B4000 Ashbury-Lambourn road.
The barrow is 55 metres or 180 feet long, and tapers in width from 15 metres (48 ft) to 6 metres (20 ft). The mound is held in place by a kerb of small sarsens. Many are missing but among those remaining some can be identified as male and female on the basis of Alexander Keiller's definition (see under Avebury). At the south-eastern end stood six huge sarsens of which five remain. Their average height is about 3 metres or 10 feet. Behind is a short gallery to a stone-lined chamber in addition to which there are two side chambers.
This property is owned and managed by the National Trust.
UFFINGTON WHITE HORSE and DRAGON HILL SU 302 866
This beautiful creation is the result of cutting turf from the north-facing hillside to expose the chalk beneath. Tests have proved that it is some 3000 years old, and has survived while most others have disappeared because of the intermittent attention of the villagers from nearby Uffington.
Close by is Dragon Hill which is a huge natural knoll of chalk whose summit has been artificially flattened to produce a "harvest-type hill" which resembles Avebury's Silbury Hill to a remarkable degree.
It is another property owned and managed by the National trust.
An aerial photograph will be added shortly.
---
Excursion 6
Excursion 7